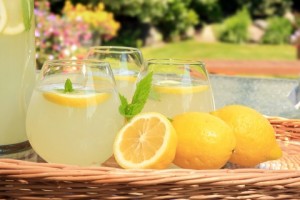 Not everyone enjoys cooking, but for those who do, there is something very cathartic about making food from scratch, touching and smelling the food before the eating experience. We want to share a recipe with you that you can unplug while making and relax while drinking it.

Our U&R Lemonade is the perfect tart sweet recipe to bring to your 4th of July barbeque, beach outing, or simply enjoyed at home in a tech free zone. This is the standard recipe, but you can adjust it to your taste for sweetness or acidity. Add your own twist by serving with lemon or lime slices, mint leaves, or even basil.
Ingredients:
6 – 7 Lemons
1 cup Sugar
6 cups of Water
Lemon, Lime, Sliced Fruits or Herbs for Garnish (Optional)
Method:
Squeeze enough lemon juice to measure 1 cup. Pour into serving pitcher. Add sugar and water and mix until sugar is completely dissolved. Adjust water, sugar to your taste. Serve in glasses with ice and your choice of garnish. Sit back, Unplug & Reconnect, and Enjoy!