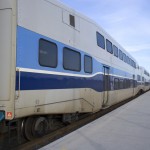 A growing number of commuters traveling on New York's Metro North railroad apparently like to unplug and reconnect during their morning commute – so much so that the MTA recently announced yet another expansion of its pilot "Quiet Car" program to include rush-hour trains on its New Haven line.
The transportation agency's Quiet Car initiative asks customers to refrain from using cell phones and to disable the sound feature on pagers, games, computers and other electronic devices during travel. Commuters riding in these specially designated cars are also asked to conduct conversations in subdued voices and to use headphone devices at a volume that cannot be heard by other passengers. If riders don't comply, conductors hand them a card that reads "Shhh!"
According to the MTA, Quiet Cars have been catching on across the northeast. New Jersey Transit began its Quiet Car program on the North East Corridor Line in September 2010. Following a positive reception, Metro North partnered with NJ Transit to expand its Quiet Commute program in June 2011 to include all of Metro North's peak West of Hudson Service, both the Pascack Valley and Port Jervis lines.
The pilot then expanded to 36 peak Hudson and Harlem Line trains in October 2011. The following December, the Long Island Rail Road launched its Quiet Car pilot program on select peak hour trains that operate between Far Rockaway and Atlantic Terminal.
MTA spokeswoman Marjorie Anders said it's likely the initiative will be made permanent, due to overwhelming favorable response.
Want to enjoy some unplugging time during your rush-hour commute? New printed timetables show a "Q" to designate trains with a quiet car, which are usually the first car for morning trains and the last car for evening trains.