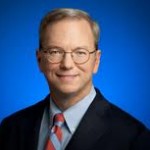 Of all the commencement advice we've heard this college graduation season, some of the best words of wisdom comes from none other than Google chairman Eric Schmidt.
In his commencement speech last week at Boston University, Schmidt urged students to unplug at least one hour a day.
"Take one hour a day and turn that thing off. Take your eyes off that screen and look into the eyes of the person you love. Have a conversation, a real conversation."
Schmidt gave a nod to technological advances that have made us better connected – technologically – than ever before. He urged the new graduates to "harness the power," but also reminded them, "The digital ties that bind our humanity together are not possible without technology, but it's also not possible without you, without a heart."
We at Unplug & Reconnect couldn't agree more.