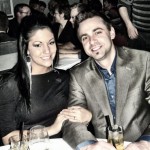 "I love you too and will do all I can to make you happy."
Tragically, those were the last words of Emy Brochu to her boyfriend, Mathieu Fortin, texted moments before her car slammed into the back of a tractor-trailer near Victoriaville, Quebec, killing her instantly.
Now Fortin has created a Facebook page (in French) to tell his story, which he hopes people will learn from.
"An accident can happen quickly," he writes. "I hope every time you look at your cellphone while you're driving, you think of Emy and those who loved her.
"At what time is a text or an email more important than life itself? At what point is something on your phone more important than the people that you love?"
In December, the National Transportation Safety Board (NTSB) posed a similar question when it recommended a full ban on the use of cell phones and text-messaging devices while driving.
The ban came shortly after it was learned that a 19-year-old pickup truck driver who caused a deadly pileup in Missouri had sent or received 11 texts in the 11 minutes preceding the accident involving two school buses. The truck driver and a 15-year-old student were killed in the accident and 38 others were injured.
Sadly, it seems that tragedies such as these are all too often what it takes to focus serious attention on the problem of texting and driving.